Show results for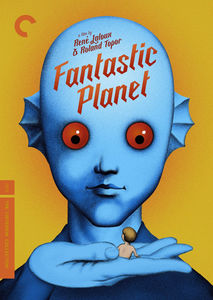 Fantastic Planet (Criterion Collection)
Release

6/21/2016

Film and TV Genre

Science Fiction, Animation

Media Format

DVD

Please be advised. Unless otherwise stated, all BLU-RAY are REGION A and all DVD are REGION 1 encoding. Before purchasing, please ensure that your equipment can playback these regions. For more information on region encoding, please click the link below:
Product Notes
Nothing else has ever looked or felt like director Rene Laloux's animated marvel Fantastic Planet, a politically minded and visually inventive work of science fiction. The film is set on a distant planet called Ygam, where enslaved humans (Oms) are the playthings of giant blue natives (Draags). After Terr, kept as a pet since infancy, escapes from his gigantic child captor, he is swept up by a band of radical fellow Oms who are resisting the Draags oppression and violence. With it's eerie, coolly surreal cutout animation by Roland Topor; brilliant psychedelic jazz score by Alain Goraguer; and wondrous creatures and landscapes, this Cannes-awarded 1973 counterculture classic is a perennially compelling statement against conformity and violence.