Show results for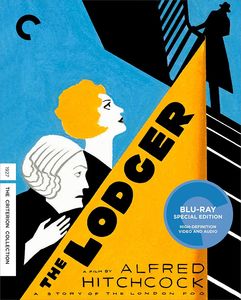 The Lodger: A Story of the London Fog (Criterion Collection)
Release

6/27/2017

Film and TV Genre

Mystery / Suspense, Drama-Classics (Silent Films)

Media Format

Blu-ray

Please be advised. Unless otherwise stated, all BLU-RAY are REGION A and all DVD are REGION 1 encoding. Before purchasing, please ensure that your equipment can playback these regions. For more information on region encoding, please click the link below:
Product Notes
Criterion Collection: The Lodger - A Story Of The London Fog
With his third feature film, The Lodger: A Story of the London Fog, Alfred Hitchcock took a major step toward greatness and made what he would come to consider his true directorial debut. This haunting silent thriller tells the tale of a mysterious young man (matinee idol Ivor Novello) who takes up residence at a London boardinghouse, just as a killer who preys on blonde women, known as the Avenger, descends upon the city. The film is animated by the palpable energy of a young stylist at play, decisively establishing the director's formal and thematic obsessions. In this edition, The Lodger is accompanied by Downhill, another 1927 silent exploration of Hitchcock's "wrong man" trope, also headlined by Novello—making for a double feature that reveals the great master of the macabre as he was just coming into his own.
BLU-RAY SPECIAL EDITION FEATURES
2K digital restoration, with a new score by composer Neil Brand, performed by the Orchestra of Saint Paul's
Downhill, director Alfred Hitchcock's 1927 feature film starring Ivor Novello, in a 2K digital restoration with a new piano score by Brand
New interview with film scholar William Rothman on Hitchcock's visual signatures
New video essay by art historian Steven Jacobs about Hitchcock's use of architecture
Excerpts from audio interviews with Hitchcock by filmmakers François Truffaut (1962) and Peter Bogdanovich (1963)
Radio adaptation of The Lodger from 1940, directed by Hitchcock
New interview with Brand on composing for silent film
PLUS: Essays on The Lodger and Downhill by critic Philip Kemp"
GENRE: Thriller
LANGUAGE: English
SUBTITLES: None
AUDIO: Silent
Widescreen
TIME: 91 Minutes
TINTED/B&W