Show results for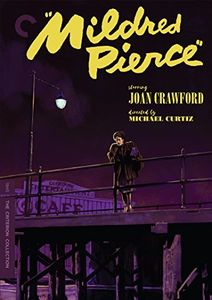 Preview
Mildred Pierce (Criterion Collection)
Release

2/21/2017

Film and TV Genre

Drama, Suspense-Film Noir

Media Format

DVD

Please be advised. Unless otherwise stated, all BLU-RAY are REGION A and all DVD are REGION 1 encoding. Before purchasing, please ensure that your equipment can playback these regions. For more information on region encoding, please click the link below:
Product Notes
Melodrama casts noirish shadows in this portrait of maternal sacrifice from Hollywood master Michael Curtiz. It's iconic performance by Joan Crawford as Mildred, a single mother hell-bent on freeing her children from the stigma of economic hardship, solidified Crawford's career comeback and gave the actor her only Oscar. But as Mildred pulls herself up by the bootstraps, first as an unflappable waitress and eventually as the well-heeled owner of a successful restaurant chain, the ingratitude of her materialistic firstborn (a diabolical Ann Blyth) becomes a venomous serpent's tooth, setting in motion an endless cycle of desperate overtures and heartless recriminations. Recasting James M. Cain's rich psychological novel as a murder mystery, this bitter cocktail of blind parental love and all-American ambition is both unremittingly hard-boiled and sumptuously emotional.