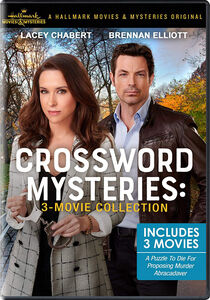 Crossword Mysteries: 3-Movie Collection
Release

3/2/2021

Film and TV Genre

TV Crime, Television

Media Format

DVD

Please be advised. Unless otherwise stated, all BLU-RAY are REGION A and all DVD are REGION 1 encoding. Before purchasing, please ensure that your equipment can playback these regions. For more information on region encoding, please click the link below:
Product Notes
Includes: A Puzzle To Die For (2019)Editor Tess Harper (Lacey Chabert) enjoyed her quiet existence crafting the crosswords for the New York Sentinel. However, after an art gallery theft that ended with the curator's murder-and her discovery that one of her paper's old puzzles was riddled with clues about the crime-she'd have some explaining to do for curious cop Logan O'Connor (Brendan Elliott). What's an 8-letter word for "not guilty"? First Hallmark series entry co-stars Barbara Niven, John Kapelos, Zach Smadu. 120 min. C/Rtg: NR Proposing Murder (2019)Crossword editor Tess Harper (Lacey Chabert) thought she'd be playing Cupid when she worked an old friend's marriage proposal to his lady into her Sunday puzzle. However, on the day it was published, he was found stabbed in his apartment-leaving Tess and Detective Logan O'Connor (Brennan Elliott) with a challenge that they'd better not do in pen. Brain-teasing series entry also stars Kyle Buchanan, Alex Paxton-Beesley, Lara Jean Chorostecki, Barbara Niven. 84 min. C/Rtg: NR Abracadaver (2020)Researching a magic-themed puzzle brought Tess Harper (Lacey Chabert) and crew to the dinner show at an illusionists' club-where they witnessed the "bullet catch" trick go tragically awry for the magician (Noam Jenkins) onstage. Can Tess resist the lure of the case after she watches a person of interest vanish into thin air? Third franchise thriller also stars Brennan Elliott, Barbara Niven, John Kapelos, Kaitlyn Leeb. 84 min. C/Rtg: NR Widescreen; Soundtrack: English.