Show results for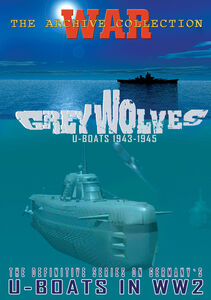 Grey Wolves: U-Boats 1943-1945
(Black & White)
Release

7/26/2005

Film and TV Genre

Special Interest-Documentary

Media Format

DVD

Please be advised. Unless otherwise stated, all BLU-RAY are REGION A and all DVD are REGION 1 encoding. Before purchasing, please ensure that your equipment can playback these regions. For more information on region encoding, please click the link below:
Product Notes
With the defeat at Stalingrad, the belated need for total mobilization was accepted by Hitler and the slack in German production capacity was taken up in an attempt to produce the equipment needed to service a wider and much longer war. A new program for increased production was introduced - 27 Type VII boats a month by the end of 1943. However, it was already too late for the U-boat arm, for the allies had moved to close the gap. Large numbers of long-range aircraft, new radar, new weapons and new tactics served only to raise U-boat losses in the Atlantic after mid 1943. This final chapter of the Grey Wolves war is told with fascinating footage covering all aspects of this story. It ends with film of the one man "Biber" submarine, and the arrest of Doenitz in 1954 - Hitler's nominated successor and Germany's last Fuehrer!