Show results for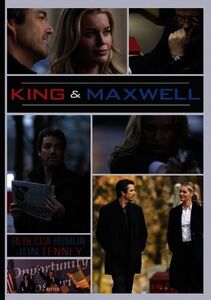 King & Maxwell
(Manufactured on Demand)
Release

3/10/2015

Film and TV Genre

TV Crime, Television

Media Format

DVD

Please be advised. Unless otherwise stated, all BLU-RAY are REGION A and all DVD are REGION 1 encoding. Before purchasing, please ensure that your equipment can playback these regions. For more information on region encoding, please click the link below:
Product Notes
Private investigators, Sean King (Jon Tenney) and Michelle Maxwell (Rebecca Romijn), are the title characters of the TV series, King & Maxwell, based on the bestselling novels by author, David Baldacci. NCIS: LOS ANGELES Executive Producer, Shane Brennan, developed Baldacci's eccentric crime fighting duo for TV. King and Maxwell share a similar background as former agents whose Secret Service careers ended controversially - King, after the presidential candidate he was assigned to protect was assassinated, and Maxwell, after the man she was charged to protect was kidnapped. However, their personal styles and methods for solving cases could not be more different. Maxwell is a former Olympic athlete who uses her intelligence, beauty, and connections. King combines his investigative skills with his law degree, maneuvering through the Beltway system. Maxwell's messy, King's neat. Maxwell prefers beer, King wine. Teamed up, these private investigators solve high stakes cases involving power players in the heart of the nation's capital in this thrilling and action-packed series.
Description
| | |
| --- | --- |
| Title: | King & Maxwell |
| Genre: | TV Crime, Television |
| Studio: | CBS Mod |
| Number of Discs: | 2 |
| Attributes: | Manufactured on Demand |
| Release Date: | 3/10/2015 |
| Media Format: | DVD |
| UPC: | 889290006103 |
| Original Language: | ENG |
| Closed Caption: | No |
| Run Time: | 425 minutes |
| Year of Release: | 2013 |