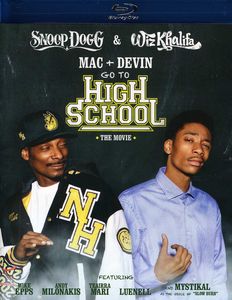 Mac and Devin Go to High School
Release

7/3/2012

Film and TV Genre

Comedy-Contemporary

Media Format

Blu-ray

Please be advised. Unless otherwise stated, all BLU-RAY are REGION A and all DVD are REGION 1 encoding. Before purchasing, please ensure that your equipment can playback these regions. For more information on region encoding, please click the link below:
Product Notes
Valedictorian hopeful Devin Overstreet (Wiz Khalifa) struggles to pen his graduation speech when it becomes clear that all his academic overachievements have left him with little to no life experiences. He finds an unlikely inspiration in Mac Johnson, (Snoop Dogg) the least achieving student on campus. Mac, a 15-year senior and consummate ladies man, is smitten by the school's new substitute chemistry teacher. He soon realizes that the only way he'll truly have a chance with her is if he finally graduates high school. In 3 weeks time, Mac must cram four years of high school academics, and Devin must cram four years of teenage experience.