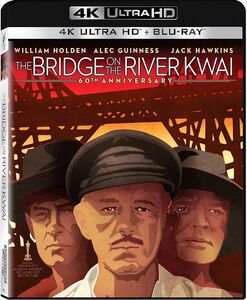 Preview
The Bridge on the River Kwai
(4K Mastering, With Blu-ray, 2 Pack, Subtitled)
Release

10/3/2017

Film and TV Genre

War-World War II

Media Format

4K Ultra HD

Please be advised. Unless otherwise stated, all BLU-RAY are REGION A and all DVD are REGION 1 encoding. Before purchasing, please ensure that your equipment can playback these regions. For more information on region encoding, please click the link below:
Product Notes
The Bridge on the River Kwai 4K Blu-ray - 60th Anniversary Edition / 4K Ultra HD + Blu-ray
A group of British POWs are forced to build a bridge in Burma for the Japanese. Led by Colonel Nicholson, they not only build the bridge but organise the whole building program and are proud of the final result. However, unbeknownst to the POWs, a British commando team has been given a mission to destroy it.
CAST:
Director: David Lean
Writers: Carl Foreman, Michael Wilson, Pierre Boulle
Starring: William Holden, Alec Guinness, Jack Hawkins, Sessue Hayakawa, James Donald, Geoffrey Horne
SPECIAL FEATURES:
Fully restored in 4K resolution and presented with High Dynamic Range (HDR) and Dolby Atmos audio, The Bridge on the River Kway won seven Academy Awards, including Best Picture, Best Director (David Lean) and Best Actor (Alec Guinness).
Crossing the Bridge: Picture-in-Picture Graphics Track
Making of The Bridge on the River Kwai
The Steve Allen Show with William Holden & Alec Guinness
The Bridge on the River Kwai Premiere Narrated by William Holden
Rise and Fall of a Jungle Giant Featurette
USC Short Film Introduced by William Holden
An Appreciation by Filmmaker John Milius
Photo Gallery
Theatrical Trailers
FEATURES:
161 min
Rated PG
Resolution: 4K (2160p)
Aspect ratio: 2.55:1
Description
| | |
| --- | --- |
| Title: | The Bridge on the River Kwai |
| Genre: | War-World War II |
| Starring: | William Holden, Alec Guinness, Jack Hawkins, Sessue Hayakawa, James Donald, Geoffrey Horne, Keiichiro Katsumoto, M. R. B. Chakrabandhu |
| Theme: | Academy Award Winner |
| Director: | David Lean |
| Studio: | Sony Pictures |
| Number of Discs: | 2 |
| Attributes: | 4K Mastering, With Blu-ray, 2 Pack, Subtitled |
| Release Date: | 10/3/2017 |
| Media Format: | 4K Ultra HD |
| Rated: | PG |
| UPC: | 043396496316 |
| Original Language: | ENG |
| Subtitles: | POR |
| Closed Caption: | Yes |
| Year of Release: | 1957 |